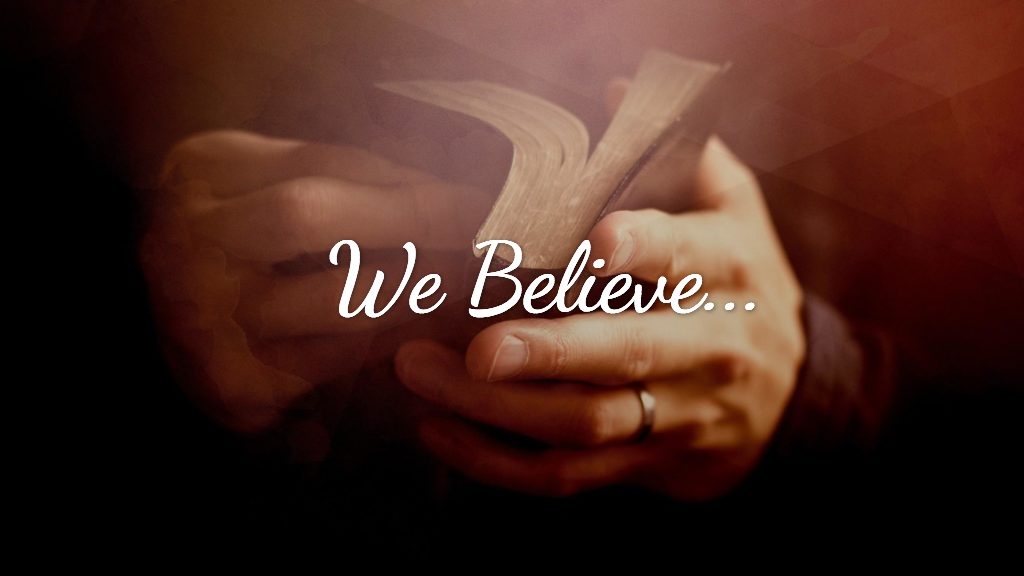 We have always known where we are now is only because of where our journey as a church began. We recognize the importance of appreciating our rich history as a church body, and to remember where we started.
Everything we have, everything we know, is built on the foundation of the generations that have gone before. The hope of the generations to follow is that each generation accepts the responsibility to pass on to the next the glory and reality of life in Christ.
We Believe
in the One True God as He revealed Himself in three persona —in the Father — the Sovereign, infinite, personal Spirit, perfect in holiness, wisdom, power and love; Who concerns Himself graciously in the affairs of men; Who hears and answers prayer; Who saves from sin and death all who come to Him through Jesus Christ.

in the Lord Jesus Christ — God's only begotten Son, conceived by the Holy Spirit. We believe in His virgin birth, sinless life, miracles and teaching, His substitutionary, redeeming death, bodily resurrection, ascension into heaven, continual intercession for His people and personal, visible return to earth.

in the Holy Spirit — Who came forth from the Father and Son to convict the world of sin, righteousness, and judgment, and to save, set apart, and empower for ministry all who believe in Jesus Christ. We believe the Holy Spirit indwells every believer in Jesus Christ and that He is an abiding Helper, Teacher, and Guide. We believe in the present ministry of the Holy Spirit and in the exercise of the biblical gifts of the Spirit.
We Believe
in the Bible, God's Holy Word, consisting of the Old and New Testament; that they are fully inspired (God-breathed), without error in the original manuscripts, and the infallible rule of faith and practice.

all men are by nature and choice sinners and separated from God.

in salvation by grace through faith in the totally sufficient death, burial, and resurrection of Jesus Christ;
that God regenerates and baptizes by the Holy Spirit those who repent of their sins and confess Jesus Christ as Lord.

in the priesthood of all believers.

in the existence and activity of Satan and the believer's complete victory over him through Jesus Christ.

We Believe

in the Lordship of Jesus Christ. He is the Head of His Body of believers called the church and is preparing them to rule with Him in glory.

in Baptism and the Lord's Supper — two ordinances committed by Jesus Christ to believers as a testimony and witness. We believe in water baptism (immersion) and communion open to all believers in Jesus Christ.

in the privileges and responsibilities of each member of the local church.

in the freedom and autonomy of the local church.

in the resurrection of the body, the final judgment and eternal blessing of the righteous, and endless suffering of the lost.