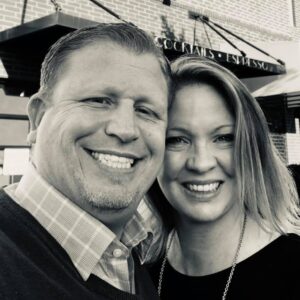 Our family moved to the Lampasas area in October of 2022 to join the body of believers at New Covenant Lampasas, as well as to become part of the leadership team. Over the past twenty-three years my life experience has been filled with the joy of teaching piano and music theory, volunteering and working on staff as a Children's Minister, pursuing various freelance writing projects, leading performing arts teams on missions around the world, teaching the creative arts with the intent to make an impact for Christ, as well as my most favorite pursuit of homeschooling our three wonderful children.
Since the day I became a mother and held my newborn son for the first time, my life was radically changed as I quickly came to realize the crucial vocation that came with the task of molding and shaping the next generation. This passionate calling has overflowed from the walls of my home to the walls of the church, where the future generation is not just my own children, but an entire group of young hearts growing up and learning to reach toward Jesus.
Ecclesiastes 3:11a states, "He has made everything beautiful in its time. He has also set eternity in the heart of man…". As Children's Director of NCC, it is my deepest hope to stir up what God has already placed within the heart of each child, the understanding of our eternal nature and the drive to personally know our Creator, and His desire to know us.
Family: Married Lance Brodsky October 15, 2000
Three sons: Malakai Brodsky, Asher Brodsky and Israel (Izzy) Brodsky